will be provided in the morning when you choose the breakfast included plan.
Please enjoy our Maku-no-uchi Bento using seasonal ingredient.
Bizen Bento
¥700(tax included)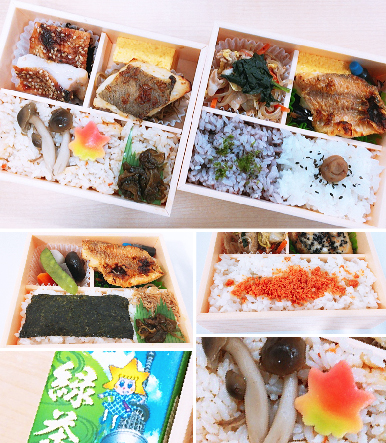 Maku-no-uchi Bento using seasonal ingredient.
Daily bento box is prepared depending on the days of week.
We use 100% Japanese grown rice for our bento and will hand it with green tea.
★Notice★
*Please kindly understand substitute is not offered for guests who have food allergies. The guests should take personal decision at last.
*Please kindly note that the menu is depending on the day and contents cannot be chosen.
When you reserve breakfast included plan
Breakfast bento is provided from 6:30am to 10:00am at front desk.
Please come to the front desk to take the bento box.
When your reservation not including breakfast
We can also prepare breakfast bento for the guest who reserve the room only plan.
Please let the staff know if you need the breakfast at noon, the day before your stay. You can order for infant child additionally as well.
Please feel free to ask our staff.